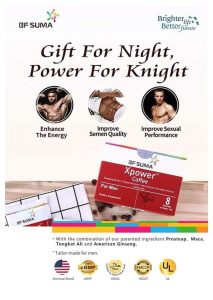 Xpower Coffee for Men
What is in XPower Coffee for Men?
BF Suma XPower Coffee for Men , is formulated with 4 powerful ingredients-Epimedium, Maca and Tongkat Ali and American Gingseng is a super drink allowing you to boost your energy, enhance your sexual performance and improve sperm quality with only a cup of coffee every day.
As known that Epimedium, Maca and Tongkat Ali are some of the most powerful supplements for men. To make it even better, BF Suma also combines Gingseng to enhance the benefits of those three supplements.
Epimedium is a grass widely used as herbal medicine to improve sexual ability.Research found out it could stimulate androgen hormones'secretion,enhance libido,relieve fatigue and stress and promote erection.
Improve sexual performance, nourish prostate
Promote blood circulation, improve body vitality
Why Choose XPower Coffee for Men?
Epimedium, known as Prostaep-I in BF Suma's products, is an unique technology which received US patent to extract epimedium, increase the effect and reduce the side effects.
Scientific combination, four active ingredients contained in one sachet is a cost effective supplement for men's health!
Those ingredients are sourced from different countries- peru. USA, Malaysia,China and so on.
Good taste, get its secret benefits by enjoying a tasty coffee.
To know more about it and to purchase, click this link https://healthandwealthmall.com/product/bf-suma-xpower-coffee-for-men/